Kyoto: Roland's exhibition "KOWAKU – Seduction/Fascination"
December 2 – 30, 2923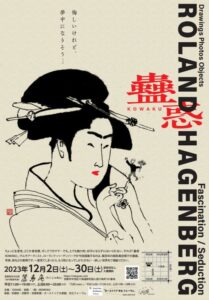 Tokyo: Roland's photos at Marc Jacobs' BOOKMARC
February 3 – 12, 2023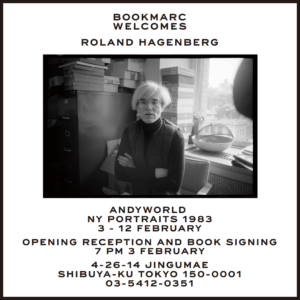 Kyoto: Installation at Galerie Sugata
January 6 – 29, 2023
Roland's photos, ceramics, drawings and music at Galerie Sugata – Zenkashoin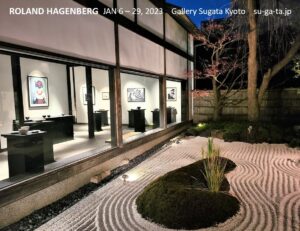 Düsseldorf: Roland's photos at Galerie Coelner-Zimmer
December 9 – February 26, 2923; Together with Erika Anna Schumacher.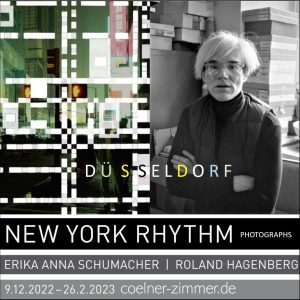 Taipei: Roland photo exhibition 
December 3 – January 10, 2023; "Photo portraits from the 1980s" at Dimensions Art Center, Taipei.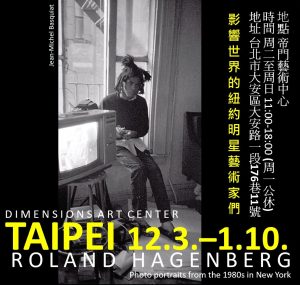 Kyoto Museum of Crafts and Design: Roland group exhibition "+R"
November 16 – 27, 2022; Roland's collaboration work with Hiroshi Miyamoto (ceramics), Kenji Omachi (lacquerware/urushi) and Yugen Sugimoto (ceramics). Supported by the Austrian Embassy Japan/Austrian Cultural Forum Tokyo and Agency of Cultural Affairs Japan. Produced by IDEAKEI, Kyoto.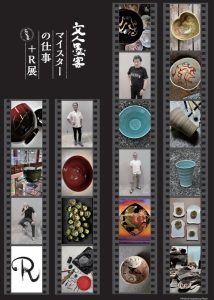 Tokyo: Roland at Tokyo Art Book Fair
September 27, 2022 17:00 – 20:00 at "Printer Area Booth Nr. J2022203"
Book presentation "Multiverse" at www.tokyoartbookfair.com. Special large size hard cover edition (47 x 34 cm) with Roland's photos, poems, drawings and songs (via QR codes). Printed by SUNM COLOR, Kyoto. Produced by IDEAKEI, Kyoto. INSTAGRAM SUNM COLOR  www.sunm.co.jp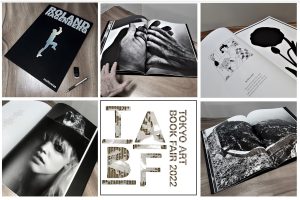 Kyoto: Roland photo exhibition "New York Friends"
Part 1: September 10 – October 1, 2022, Imura Art Gallery
Part 2: October 22 – November 24, 2022, Imura Art Gallery
www.imuraart.com  12:00 – 18:00 Closed Sundays, Mondays and holidays
Support: Austrian Embassy/Austrian Cultural Forum Tokyo
The exhibition features Roland's portraits of NY artists from the 1980s – among them Andy Warhol, whose work is on view next door at Kyocera Museum of Art Kyoto. September 17, 2022 to February 12, 2023 (Planning by Imura Art Gallery and Sony Music Entertainment Japan). www.andywarholkyoto.jp/en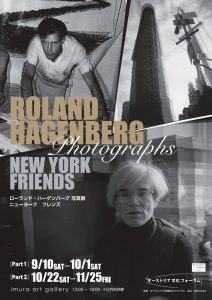 Austria: Roland on ORF TV "Kulturmontag"
September 12, 2022 – ORF TV interviews Roland as part of the report on Basquiat exhibition at Albertina.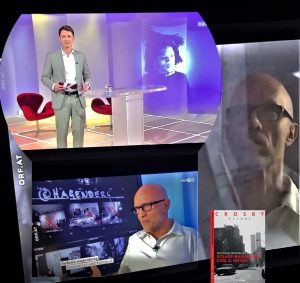 Basel : Roland book presentation
June 17, 2022 17:00 Müller Palermo Books Rebgasse 54  4058 Basel
www.muellerpalermo.ch
"CROSBY STREET" features the works and times of Roland Hagenberg and Karl A. Meyer during the 1980s in NY where they shared a studio on Crosby Street. Their Soho neighbors were artists such as Jean-Michel Basquiat, Keith Haring, Jeff Koons, Francesco Clemente, Robert Mapplethorpe, among others. Text and photos by Roland Hagenberg with an epilogue by  Abigail R. Esman. 144 pages, 120 photographs. ISBN 978-3-938457-47-4. Published by ArtInFlow Berlin www.artinflow.de instagram.com/crosbystreetbook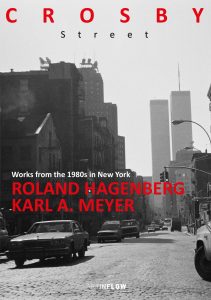 Hong Kong : Roland in group exhibition "Celebration"
January 22 – March 22, 2022 at Sin Sin Fine Art 
https://www.facebook.com/SinSinFineArt/
https://www.instagram.com/sinsinfineart/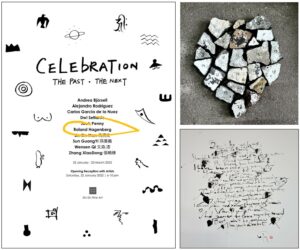 Kyoto: Roland and Terunobu Fujimori talk event
December 12, 2021, 14:30 at Rekisaikan – Kyoto Institute, Library & Archives. Roland and architect Terunobu Fujimori will talk about the making of "Storkhouse", a small guesthouse they built ten years ago in Raiding, Austria (birthplace of composer Franz Liszt). In Japanese. Because of Corona restrictions prior registration by e-mail necessary: [email protected]. www.rekisaikan.jp (Next to Kitayama Station Tozai Line).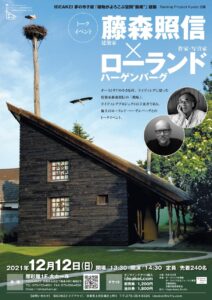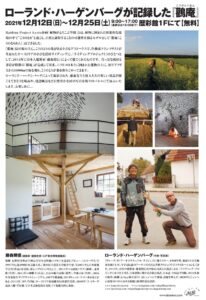 Kyoto: "Autumn in Kyoto" – Group exhibition
November 27-28, 2021
Roland's collaboration works with ceramics artists Yusuke Sugimoto, Hiroshi Miyamoto and urushi/lacquerware artist Kenji Omachi.
JINPUAN: 〒602-0915 Kyoto, Kamigyo Ward, Santeicho, 中立売通西洞院西入446 仁風庵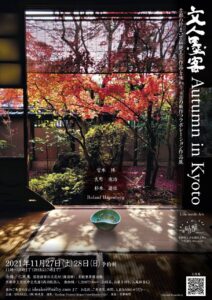 Tokyo: "Fuji Stool" – collaboration with Terunobu Fujimori
October 8 – November 14, 2021. Nadoya Gallery, Yoyogi Uehara branch
A five week installation introducing "Fuji Stool" – a piece of furniture by Japanese architect Terunobu Fujimori. It was originally designed for "Storkhouse", a small guest house that Fujimori and Roland built ten years ago in Raiding, Austria – birthplace of composer Franz Liszt. "Fuji Stool" was produced by THREE TRAVELERS in a special edition of 99 pieces, signed and numbered by Fujimori and Roland (only available in Japan). 
Nadoya Yoyogi Uehara 東京都渋谷区西原3丁目19−3 (3 minutes walk from Yoyogi Uehara Station)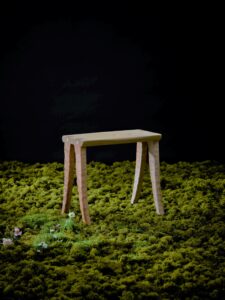 Photo: Yukikazu Ito
Kyoto: Roland's exhibition at ACE Hotel
September 1 – 30, 2021. ACE Hotel Kyoto Gallery F1 
During the 1980s, Roland documented the art world in New York, where he met dozens of renowned artists in their studios. Ace Hotel Kyoto (designed by architect Kengo Kuma) presents ten of Roland's iconic black and white photo portraits in the spacious lobby at Gallery F1. The images are  printed on canvas and are partially hand-colored with acrylic gold paint. Among the featured art stars are Andy Warhol, Jeff Koons, Keith Haring, Jean-Michel Basquiat, Louise Bourgeois, Robert Mapplethorpe and others. The photographs  are also part of the upcoming book "Crosby Street" (October 2021, Art In Flow Berlin). It documents Roland's life in New York, where he shared a studio with Swiss artist Karl A. Meyer – not far from Basquiat's on Crosby Street in Soho.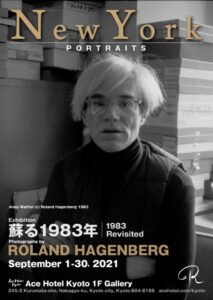 Kyoto: Roland in group exhibition with ceramics masters
February 27 and 28, 2021. 12:00-18:30. Roland participates in a group exhibition with traditional ceramics masters Hiroshi Miyamoto, Toraku Morisato, Yugen Sugimoto and urushi (lacquerware) artist Kenji Omachi. On view are some of Roland's handwritten works on paper, ceramics and kimono fabric. Because of Corona restrictions prior registration by e-mail necessary: [email protected]  Place: Studio  4 Horinouecho Kamigyoku Kyoto 602-0057 (next to Arcadia www.arcadia-company.jp). Supported by the Agency of Cultural Affairs Japan.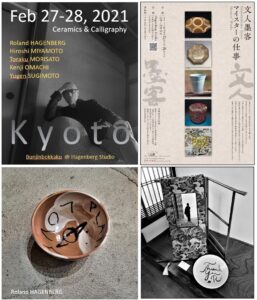 Hong Kong: Roland's poem inspires exquisite incense candle
December 2020. "Inspired by Roland's poem "When we have all" – incense candle by Sin Sin Man, Hong Kong, – including Roland's poem. Distributed in Hong Kong by Sin Sin Atelier www.sinsinatelier.com and www.indigo-living.com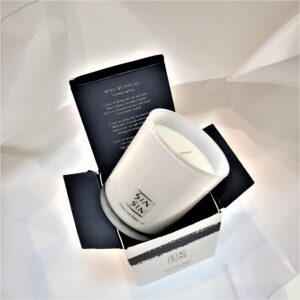 Kyoto:  Exhibition "Roland Hagenberg: Portraits of Creative People"
November 28-29, 2020 (Saturday-Sunday) 12:00 – 19:00  Hagenberg Studio+Arcadia  http://www.arcadia-company.jp/  Supported by the City of Kyoto. Portraits of creative people. On view also samples from Roland's upcoming ceramics series "Thank you".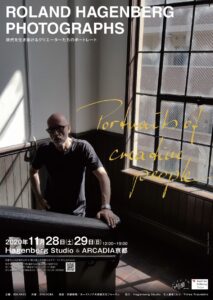 Vienna – Technical University:  Live from Japan
October 27, November 10 and December 15 , 2020.  A virtual travel to Japan. Roland will be on-site and guide through Japanese architecture, culture and way of life. CHECK LINK HERE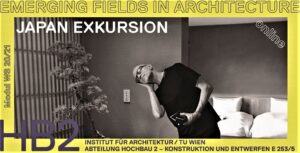 Tokyo:  Exhibition "Tokyo Curiosity" with Roland's photos
October 19, 2020 – Opening of group exhibition at Bunkamura museum in Tokyo/Shibuya (until November 12, 2020). Featuring Roland's photos among those of other artists like Sarah Moon and Daido Moriama. Catalogue available.  https://www.bunkamura.co.jp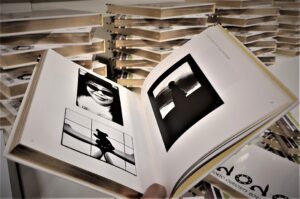 Catalogue with Roland's photos: Yayoi Kusama, Arata Isozaki and Sori Yanagi chair.
Polling near Munich: Roland designs for STOA169 museum
September 13, 2020 – Opening of STOA169 outdoor museum. Roland created together with flower artist Makoto Azuma a 4-meter high column which is part of the permanent installation. Roland's image depicts the silhouette of a woman reminiscent of religious icons such as the Madonna, the saints, the standing figure of the Buddha, a traveling monk, or a primordial mother – the Mother Earth.  It is surrounded and covered with Azuma's photographic flower arrangements. Japanese architect and Pritzker Prize awardee Kazuyo Sejima stood as a model for Roland's photograph. The image is accompanied by his handwritten poem 'Every leaf that falls alone'. www.azumamakoto.com  www.stoa169.com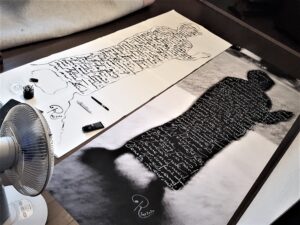 Roland preparing image with poem for STOA169
Roland and Makoto Azuma. Column with photo and poem by Roland
Kyoto: Roland reads for kids: "The Story of Kalif Stork" (in Japanese)
August 22, 2020 2:30-4pm at Chionsha www.chionsha.com  LOCATION MAP  Reservation necessary due to Corona: [email protected]  Limited seat capacity. Roland reads over 200-year-old German fairy tale by Wilhelm Hauff accompanied by violinist Shintaro Sakabe. Supported by the City of Kyoto.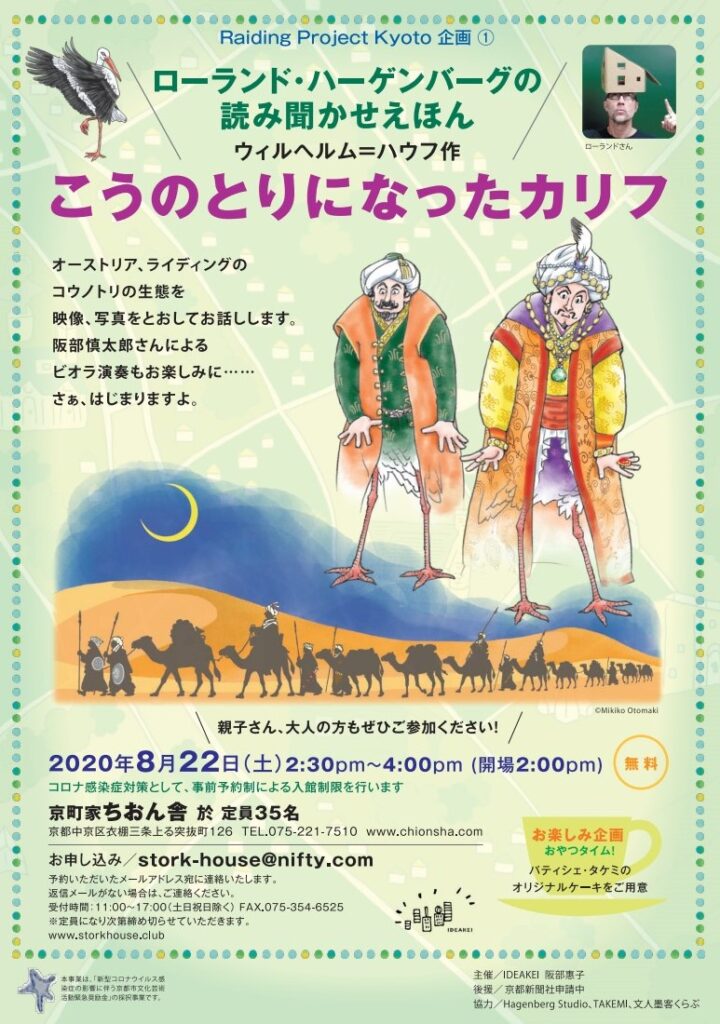 Tokyo:  Exhibition "Tokyo Curiosity" with Roland's photos postponed
Due to Corona the group exhibition originally scheduled May 23 – June 14, 2020 with Roland's at Bunkamura Museum in Shibuya had been postponed until further notice.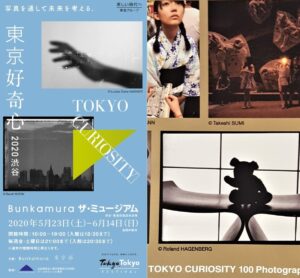 Raiding, Austria:  Inflatable Storkhouse by Terunobu Fujimori
January 24, 2019. As part of the Burgenland Extrem 24-Hour-Walk (7000 participants) around lake Neusiedl an inflatable version of Terunobu Fujimori's Storkhouse in Raiding serves as a temporary shelter along the route in Oggau.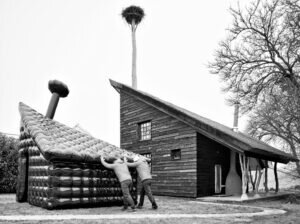 Applied art: Inflatable version of Terunobu Fujimori's Storkhouse.
Photo: Manfred Seidl
Dublin, Ireland:  Sal Fine Art Gallery and RDS Art Source
November 13, 2019 – Opening exhibition of Roland's photos at Sal Fine Art. Curated by Joe Henry. http://salstudio.ie/gallery/
November 15-17, 2019 –  Art Source at RDS (Royal Dublin Society) – Roland's photos at Booth J111. http://www.artsource.ie/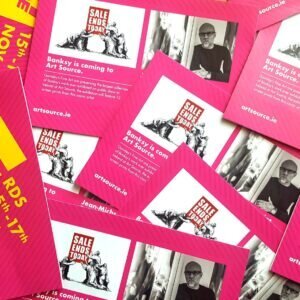 Invitation cards for RDS Art Source Dublin with Banksy art work and portrait photo of Roland by Yoshiki Suzuki.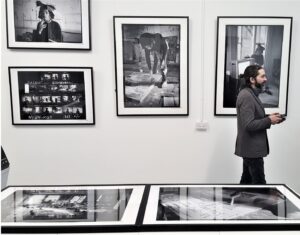 Installation view Sal Fine Art, Dublin
Tokyo Mori Museum:  Exhibition Jean-Michel Basquiat with photos by Roland
September 21, 2019 – November 17, 2019, Mori Arts Center Gallery, Tokyo; 
https://www.basquiat.tokyo/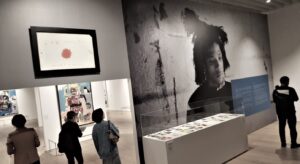 Installation view at Mori Arts Center Gallery with photo by Roland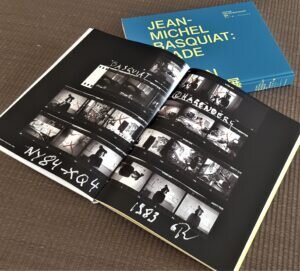 Exhibition catalogue with photos by Roland.
Hardcover, 264p, Editor: Dieter Buchhart. ISBN 978-4-908356-10-0
Raiding/Austria:  Book event  "10 Years Raiding Project" and exhibition 
June 6, 2019 14:00 – 17:00 at Storkhouse, Neugasse 5,  7321 Raiding Austria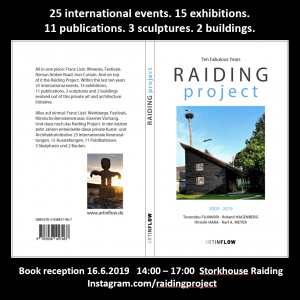 Paperback, 108  pages, English/German, 99 illustrations; 12.95 EUR;
ISBN 978-3-938457-46-7  Published by Art In Flow, Berlin www.artinflow.de
Ten years ago, Roland Hagenberg started an art and architecture project in a village in Austria where composer Franz Liszt was born. "Raiding Project 2009-2019" chronicles all the events, exhibitions, publications and architecture that evolved during that period.
Tokyo:  "NY / moment" March 1 – April 7, 2019
OPENING: MARCH 1, 2019 18:00 – 21:00
RVCA Gallery Shibuya. 5-27-5 Jingumae Shibuya-ku Tokyo 151-0061
MAP: http://map.digital/google774
Curated by CTAG (Japanese information here)
Roland's photo installation with large size images of New York artists in the 1980s. 
WATCH EXHIBITION VIDEO WITH ROLAND'S COMMENTS HERE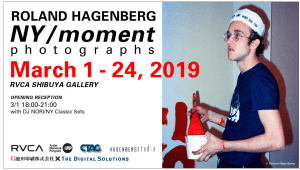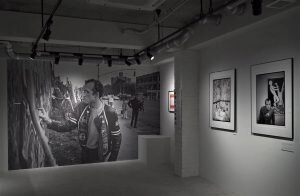 Installation view (partial) of "NY / moment" at RVCA Gallery Shibuya, Tokyo.
Photo: Takuma Kobayashi https://ctag.jp
Berlin:  "RIO: Love and Life in Times of Executions" 
Roland's new poem book published by Art In Flow Berlin in English/German (with Polaroids by Karl A. Meyer). Release date: March 22, 2019. ISBN 978-3-938457-45-0
SEE SAMPLE PAGES, INFORMATION, ORDER BOOK  HERE AT WWW.ARTINFLOW.DE
DOWNLOAD PRESS RELEASE IN ENGLIH HERE
DOWNLOAD PRESS RELEASE IN GERMAN HERE
LISTEN TO GERMAN POEM "Zeitalter der Hinrichtung" recited by Sophie Wegleitner
LISTEN TO GERMAN POEM "Gil Scott Heron ist der Groesste" recited by Sabine Heckmann
LISTEN TO GERMAN POEM "Du schuldest ihnen nichts" recited by Sabine Fehr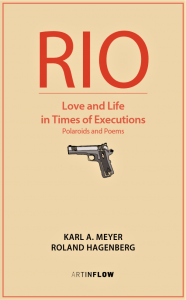 Paperback, 84 pages, English/German, 11.95 EUR
ISBN 978-3-938457-45-0
Published by Art In Flow Berlin
Munich: 3 more performances of "Jetlag"
January 15-16-17,  2019 additional performances of Roland's theater play "Jetlag" at Rationaltheater in Munich. (See also news November 6, 2018)
Click here for TV report (in German) on "Jetlag"
Tokyo: Talk at Yebisu Garden Cinema. Roland on new Basquiat documentary
January 8, 2019 (after 19:30 screening). Visitors need reservation.
WATCH TRAILER HERE: http://great.social/yebisu7
Movie program with Roland's comment
Rio de Janeiro: One year exhibition tour ends
January 7, 2019 last day or Basquiat exhibition with Roland's photos
Several very large images by Roland were part of the one-year-travel-exhibition on Jean-Michel Basquiat's work (Mugrabi Collection) organized by the CCBB Centro Cultural Banco do Berasil (Bank of Brazil)  in Sao Paolo, Belo Horizonte, Brasilia and Rio de Janeiro. Total visitors: 850,000.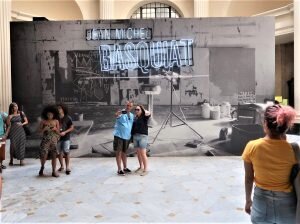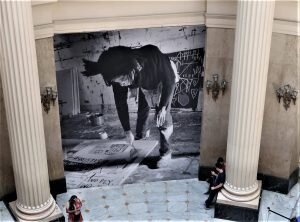 Roland's photos in Rio de Janeiro. (Photos: Maya Fehr).
Munich, Germany: Roland's stage play "Jetlag" at Rationaltheater
Premier: November 6, 2018  – 20.00
Other dates: Nov 7, 8, 9, 26, 27, 28, 29, 2018
Extended dates: Jan 15, 16, 17 – 2019
READ NEWS  about JETLAG in Sueddeutsche Zeitung here: great.theater/der8 (German)
WATCH TV INTERVIEW with Roland about "Jetlag" HERE: http://b.link/jetlag42 (German)
Download or read program booklet here (German)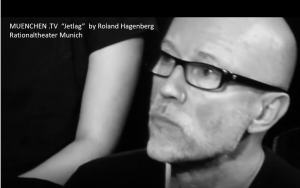 TV interview with Roland, Nov 2018
Roland describes how to deal with dementia – from the point of view of a single mother in Munich and her son, who lives in Tokyo. Within a year, the mother suffers various stages of the illness, ranging from forgetfulness, denial and cover up to complete helplessness. The son regularly visits her. Ever flight becomes a confrontation with himself. There are conflicts, reproaches, moments of despair and comfort. An interwoven love story adds to the tension accompanied by 10 songs written by Roland .
"Wenn das Ensemble eine Begegnung zwischen Mutter und Sohn spielt, zieht die Kälte, mit der Eric die verwirrte, alte Dame zu beschwichtigen versucht, bis zu den Sitzen der Zuschauer hinüber. Im nächsten Moment stimmt butterweicher Bossa Nova vom Band versöhnlich, es sind Hagenbergs Lieder, von ihm komponiert und gesungen."
  –  Süddeutsche Zeitung
LISTEN TO THE SONG "FIRESTARTER" BY ROLAND
The title "Jetlag" refers not only to the extreme tiredness and other physical effects felt by a person after a long flight across different time zones – but figuratively speaking also to the mother's state of mind with er diminishing sense of time.
"Jetlag" has autobiographical traits. Roland, who has been living in Japan for 25 years, describes not only the course of a deadly disease, but also a predicament of our time: "disproportionate distance," as he calls it. "On the multicultural, interconnected, global level the world moves closer together. On the interpersonal it drifts apart. Conflicts arise within every family – at the latest when confronting old age, since sacrificing your time to care for parents puts your ability to compete at risk and therefore your income or even your own provision for old age in a market-oriented society."
Roland is currently translating "Jetlag" into English and Japanese.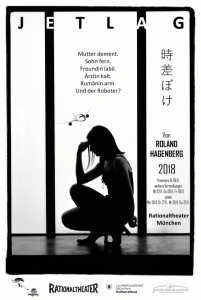 Adrian Castilla and Lila Schulz at Rationaltheater rehearsal. Photos Mario Steigerwald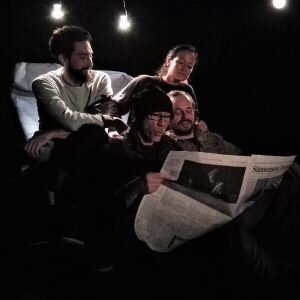 From left to right: Adrian Castilla, Roland Hagenberg, Lila Schulz, Wolf Orreal
Fukuoka, Japan: Exhibition of Roland's photographs
September 8 – October 21, 2018 (7000 visitors !!!)
CLICK HERE to listen to Roland on Radio Love FM Fukuoka, Japan as he talks about his exhibition at Mitsubishi Jisho Artium. Interviewed by Jun Fujita  (16 min; alternating in Japanese and English). At end of interview  song by Roland "While you were out".
"Basquiat and NY Artists: Photographs by Roland Hagenberg" is the title of an exhibition at Artium Art Space. It features Roland's works from the 1980s in New York. 
Roland with his portrait of Basquiat. Billboard announcing Roland's exhibition.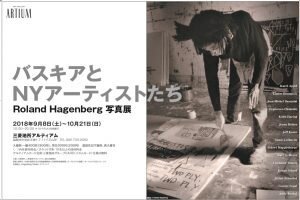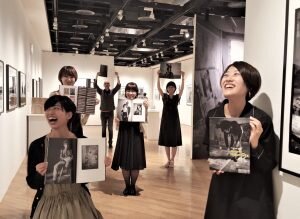 Exhibition catalog arrived at Artium, Fukuoka
Prague: Lecture at Academy of Arts, Architecture and Design
June 1, 2018  18:00
Title of Roland's lecture: "Modern architecture in a rural environment – who cares?" – based on his experience with "Raiding Project" – an initiative to develop small guest houses at the birthplace of composer Franz Liszt in Austria. 
https://www.umprum.cz/web/cs/galerie-um/design-treat-cafe-6939
Burgenland Film Festival, Austria
April 21, 2018 19:00
Roland's comical video series "Raiding Stories" – where farmers at the birthplace of Franz Liszt set out to produce a Hollywood film – was selected for this year's Burgenland Film Festival in Austria. Screening in Oberwart at OHO April 21 at 19:00.  www.oho.at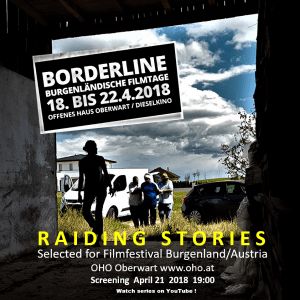 Scene from Raiding Stories Part 4: "Fly on a Dumpling" 
Japan guide in French
April 2018
The French version of Roland's Japan guide to 99 selected architecture and design spots ist published this month. You can also EXPLORE ONLINE  or DOWNLOAD HERE.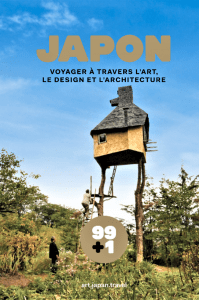 Architect Terunobu Fujimori climbing his "Takasugi-an Teahouse" (photo by Roland).
Roland's photos in Frankfurt
February 15 – May 26, 2018 – Frankfurt, Germany  – Roland Hagenberg photo exhibition "Basquiat im Atelier" Galerie Peter Sillem @ MARIA Fahrgasse 10 next to Schirn Kunsthalle. The gallery features large size photographs of Jean-Michel Basquiat that Roland took in his studio in 1983. On view are also portraits, that Roland took of Basquiat's friends  like Julian Schnabel, Keith Haring, Robert Mapplethorpe, Andy Warhol, Louise Bourgeois, Jenny Holzer and others. Next door the Schirn Kunsthalle exhibits "Basquiat – Boom for Real" which was previously on view at the Barbican in London. For press information send mail to: [email protected]
WATCH VIDEO CLIP FROM JEAN-MICHEL VECCHIET'S BASQUIAT DOCUMENTARY WITH ROLAND'S PHOTOS
Top: Opening reception; German TV ARD interview with RolandMiddle: Jean-Michel Basquiat, Robert MapplethorpeBottom: Francesco Clemente with daughter Chiara, Keith Haring, Jeff Koons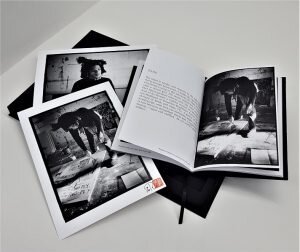 Limited edition photo box with book by Roland Hagenberg at Galerie Peter Sillem
Opera singer presents Roland's poem
March 25 – 18:00 Raiding – Liszt Festival,  Vienna State Opera soprano Ildiko Raimondi sings poem by Roland Hagenberg with music composed by Eduard Kutrowatz
Left: Ildiko Raimondi CD "Begegnungen" (Encounters) with Roland's poem "Vor meinem Fenster" (In front of my window) with music by Eduard Kutrowatz. Right: Ildiko Raimondi, Roland Hagenberg, Eduard Kutrowatz
COMING UP:
September 8 – October 21 Fukuoka, Japan – Roland Hagenberg photo exhibition at Mitsubishi Jisho Artium Gallery
Roland's photos in Sao Paulo
January – April 2018
As part of the exhibition "Jean-Michel Basquiat – Works from the Mugrabi Collection" the Centro Cultural Banco do Brasil in São Paulo also features photos by Roland Hagenberg. January 25 – April 7, 2018
Installation views with wall-sized photo by Roland at Bank of Brazil, Sao Paulo
Roland's poems in Wendepunkt
January 2018
The literary-philosophical magazine Wendepunkt in Munich/Germany published two poems from Roland's book "Poems".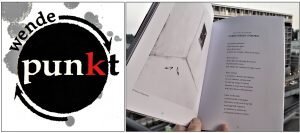 Wendepunkt magazine with Roland's poem "Territories unknown" and illustration
Audi magazine with Roland's architecture report
November 2017
The worldwide edition of all-new-designed Audi magazine is out now with a 20-page Tokyo architecture report by Roland. Watch interview with architect Sou Fujimoto here.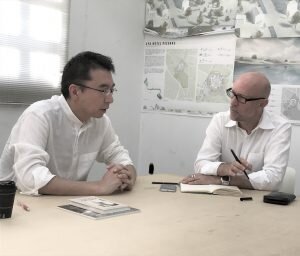 Interview with Sou Fujimoto
Barbican exhibition in London: "Basquiat: Boom for Real"
September 2017 – January 2018
Roland's photo from 1983  of Jean-Michel Basquiat's studio is prominently displayed on an exhibition wall. The show is on until January 28, 2018 and will then travel to the Schirn Kunsthalle in Frankfurt.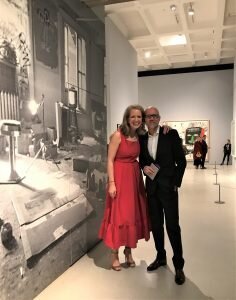 Roland in front of his photo with curator Eleanor Nairne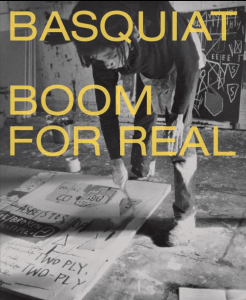 Catalogue cover with Roland's photo "Basquiat painting with cigarette, 1983"
BBC Two: Documentary on Basquiat with Roland's photos
The 90-minutes film documentary on the artist is aired Saturday, October 7, 2017 at 9pm. Programm can be viewed online shortly after broadcast.
And a BBC radio announcement for a Basquiat special with this photograph by Roland: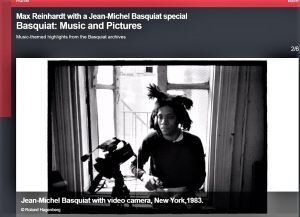 Art & literary event "Homeland: A Place of Yearning"
October 2017
A text by Roland from his book "Poems" is prominently displayed on an advertising column as part of the event in Oberwart, Austria. (October 8 – 21, 2017)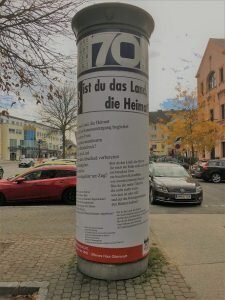 Photo: Andreas Lehner
Roland's essay on "kintsugi" in German VOGUE
September edition 2017: All about the Japanese fascination with cracked pottery (and fixing it with gold).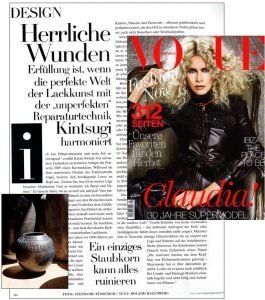 RAIDING STORIES playlist
Watch all episodes of our comedy shorts RAIDING STORIES at this YouTube playlist. (A film team sets out to produce an Oscar-winning-movie in Raiding – population 800, birthplace of composer Franz Liszt.
Roland on Austrian ORF TV June 26, 2017
Roland shows his and fellow artist's works at NG39 Art Space (Silverhouse) in Raiding, birthplace of Franz Liszt. Silverhouse was designed by Roland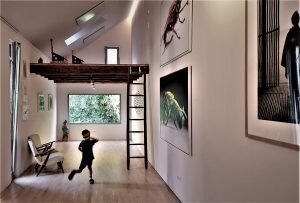 Works by Roland, Karl A. Meyer, Tanja Pfaff, Erik Trauner, Hugo Carmo and Peter White at Silverhouse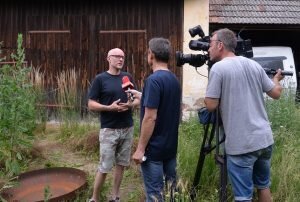 Roland interviewed by Austrian TV ORF
Literary Festival "Grenzenlos Lesen" (Reading without Borders) opens in Austria with Roland Hagenberg's book "Poems"   June 16, 2017  7pm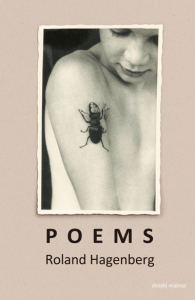 58 illustrated poems in German and English, 132 pages, hardcover, ISBN 978-4-990793760  € 14.95. Published by Shoshi Maimai, Tokyo in collaboration with Art in Flow, Berlin.  Available at: Buchwelten   Art in Flow   Amazon Japan    Amazon Germany
Writer Roland Hagenberg and actress Andrea Schramek talk about the  timeliness and function of poetry as well as Roland's new book "Poems". Together with actress Sophie Wegleitner they will recite some of the lyrics.
Summer exhibition 2017 in Raiding, birthplace of composer Franz Liszt